Having an employee leaves your company can stir up a lot of emotions and leave questions unanswered. When you lose top talent, your company definitely suffers. You must fill that spot with someone hopefully just as talented. This can be a frustrating, time-consuming and costly process. 
Having a great employee leave can also leave you scratching your head, wondering what happened and why they felt the need to jump ship? Providing an environment to promote employee retention does take a bit of work, and some digging into what your employees are thinking.
Let us explore 7 reasons why a good employee may leave so you can focus your energy on keeping your employees happy and helping your company thrive. 
Reasons Why Good Employees Leave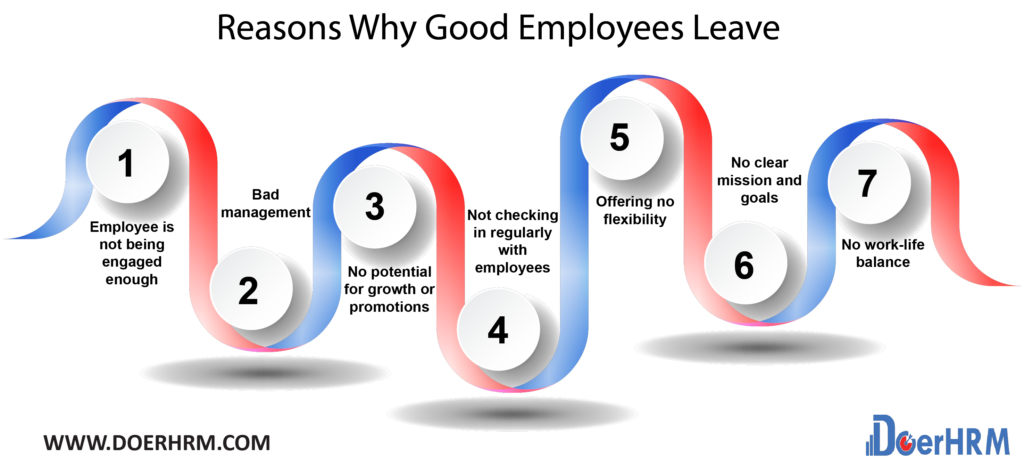 1. Employee is not being engaged enough
If your employees are not feeling engaged and challenged by their work, they may become bored. They are putting in just enough effort to get the job done. This is a problem. If an employee is not engaged with their work, they may start looking for other employment opportunities that are engaging. You might have a star employee on board with all the talent you need, but if they are not being challenged and are bored at work, they are not showing up 100 per cent for your company.
2. Bad management
There is a saying that people quit bosses, not jobs. That is absolutely true. When an employee feels frustrated with management whether they are being micro-managed, there is no management or any variation in between. Your employees will not feel safe and secure expressing themselves, and you are setting your company up to have a high turnover rate. Poor management skills can be fixed and improve employee retention with great success.
3. No potential for growth or promotions
When an employee has no growth in their future job position that can dampen their motivation to stay with your company. People enjoy feeling like they are valued, and being given a chance to grow, improve and advance is a great way to let your employees know they are valuable to your company. Helping employees to further their skills and gain new skills will keep them engaged. Offering regular training and promotions will help retain employees and not have them looking elsewhere for advancement.
4. Not checking in regularly with employees
Checking in regularly with your employees gives you the chance to fix any issues that you might not be aware of. Checking in regularly with employees also makes your employees feel important and that what they are feeling is valid. There may be issues going on that you have no idea about, and if not taken care of, it can lead to good employees leaving your company. Shining a light on these issues and solving them can only be done sometimes by checking in and asking how your employees are doing. It does not have to be an intense process, and you could send out a survey at regular intervals, even offering the chance to be anonymized to express any issues that have arisen.
5. Offering no flexibility
Offering some flexibility in the workplace can lead to hiring great employees and keeping them. People are wanting to work from home more often now. Being able to offer remote work as an option is a great incentive to attract and keep good talent. Having a flexible work schedule, if possible, can even outrank a raise for making your employees happy.
6. No clear mission and goals
Having a solid and clear mission statement for your business is so essential for various reasons. One reason is that employees like to know what the goals are of the company and how they are contributing to the company's overall well-being. Having a mission with specific goals and a strategy to achieve those goals is an excellent way to engage employees and feel like an asset.
7. No work-life balance
Employees have lives outside of your company. Overworking and not facilitating a good work/life balance is a sure-fire way to chase off talented employees. This is a point where getting feedback is essential; if an employee feels overworked and does not have enough downtime, there is a good chance you will lose that employee. Working with your employees to achieve a good work/life balance will help to ensure you have a happy and engaged staff.
Ways How to Retain Good Employees