Elon Musk published The Tesla Motors Master Plan in 2006 as a white paper. As detailed in the first strategy document, Tesla intended to produce a high-end electric sports vehicle, then use the profits to create a more economical model, and so on.  As a result, Tesla has been able to produce millions of electric vehicles while simultaneously reducing manufacturing costs.
The company had a rough start, but Elon Musk stayed focused on his goal of rescuing the planet and boosting his shares in the business.
Every business leader can learn something from how Tesla grew from a small company to a $92 billion powerhouse. Let's look at some business lessons CEOs can learn from Tesla and use in their own companies.
7 Business Lessons CEOs can Learn from Tesla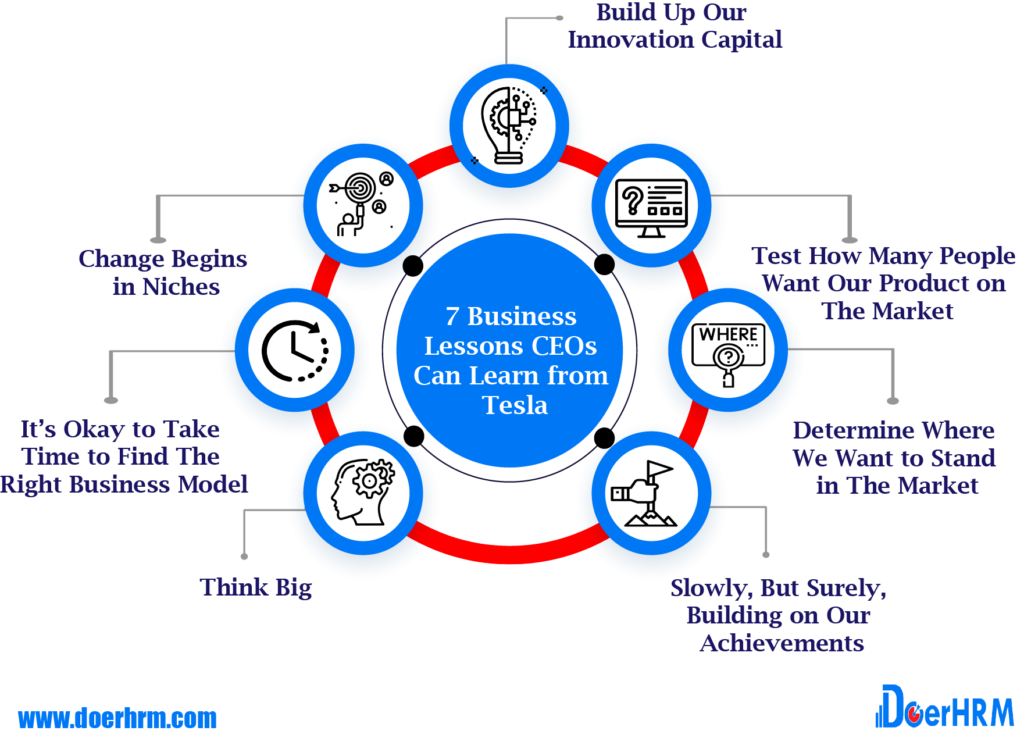 #1 Business Lesson from Tesla: Think big. 
What does Elon Musk mean when he says, "Think big?" 
The CEO of Tesla is a visionary who wants to learn more about space and clean energy. He wants his businesses to change the game, not just do well. 
Most of the time, it's not enough to be successful if you sell something that many other people already sell. Great products and services need to be one-of-a-kind or at least very helpful in a way that makes a big difference.
#2 Business Lesson from Tesla: It's okay to take time to find the right business model. 
It takes time to make money and become successful. So does figuring out the right business model. Elon Musk told his investors that it takes time to figure out how to make production as efficient as possible, which is true in any industry. 
You can get better at what you do by trying and failing. Like Elon Musk, you might make more money if you think about the long-term plan instead of just the here and now. 
#3 Business Lesson from Tesla: Change begins in niches. 
It would be an understatement to say that Tesla changed the car business. In the past ten years, Tesla has probably done more for transportation than any other company since Ford. 
It also forced other car companies to think more about fully electric cars instead of just hybrids. Why? Because now there are more options for drivers. 
When people have choices, the market is open and even small businesses can have a say and compete. If you want to stand out and keep your business relevant, you need to come up with something new. 
Don't be afraid to shake up the market by offering a promising alternative solution. Tesla has everything it needs to be a future leader in the car business.  You can also have a bigger share of the market.  Just know that it won't happen right away… And that doing well in one niche can help you make enough money to try something new.
#4 Business Lesson from Tesla: Build up our innovation capital. 
The best way to get ahead of the competition is through innovation. Ideas that aren't very clear right now could have a huge effect in the future. 
People don't always know right away that they need something different than what's already on the market. You can't come up with new ideas if you don't put enough resources into the process.
#5 Business Lesson from Tesla: Test how many people want our product on the market.
Big ideas can't go wrong. Right?
Wrong.
Electric cars have always been more of an idea than something people actually wanted.  How did Musk lead Tesla to success in the market for electric cars?
Before doing anything else, Tesla would make a few test versions of an electric car model to show how powerful and useful it was.  This would make it possible for wealthy people to buy cars. 
The company would then use the feedback and revenue to fix any problems. This production model let them figure out any problems along the way, which helped them make a successful line of inexpensive cars.
You can also test the market by using these methods.  Start out small, and don't take on too much. The small first run of your product also lets people know about it and gives you more time to work out the details.
#6 Business Lesson from Tesla: Determine where we want to stand in the market.
Here's where most businesses lose track of things. Once you've finished scaling up your production and figured out where your company stands, you can figure out which marketplace is best for you. That means you have to figure out if selling at high prices makes sense or if selling in large quantities is better for your business.
#7 Business Lesson from Tesla: Slowly, but surely, building on our achievements. 
Grow slowly, but use your successes to help you grow. Here is where you can make more! Your business plan will be better if you have a lot of foresight. 
But what makes you great is how you keep getting better at what you do. Once you've figured out how to sell your revolutionary idea, you should start making more of it. 
If you have a bigger pool of customers, you can come up with a new product that helps you grow your business, or "scale up" your production line. 
At this point, you should hire people to work for you so that you don't have to rely on outsourcing. It's a great way to get things done faster and stay in charge. 
For example, executives who are good at business often hire creative people, and vice versa. Find strategic partnerships that are good for both sides.
What can Business Leaders Learn from the Story of Tesla?
Tesla Motors is a good example of how to run a business for any entrepreneur or big company that wants to turn things around. Elon Musk's time as a CEO has also taught us a lot about how to be a good leader. For example, he taught us that running a business is about fine-tuning, adapting, innovating, creating, and, most importantly, listening. 
Whether it's a new product or a sense of being special, Tesla checks all the boxes for how a 21st-century business should and could work. There's no reason your business can't do the same.