As a team leader, you are in charge of the key results for your team. This means that you will likely have a list of two or three KPIs that are the most important measurements of your team's success. 
For example, if you are in charge of a sales team, you probably have some key metrics about how much money you make and how many deals you close. Your team members would each have their own KPIs that add up, but you would probably be in charge of the team's total number. 
KPIs for team leaders can be different depending on what they do, but the top priorities and measures of success are pretty similar. As the leader of a team, your top priorities are the people on the team, their growth, and the culture of the team. Because of this, some of these metrics are very clear, while others are less clear.
You may use the questions below as a guide to begin with KPIs for team leaders:
Top 5 KPIs Examples For Team Leaders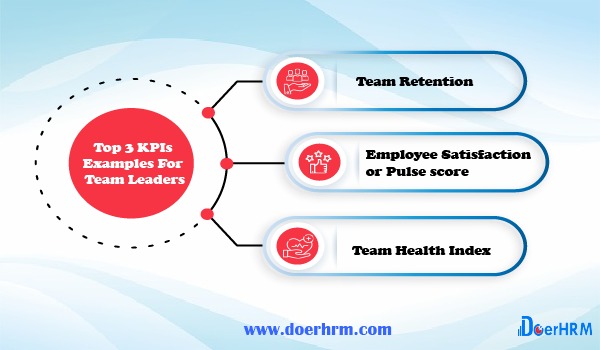 By answering the questions above, you can get a better idea of how healthy your team is and give traditional long-term metrics more meaning. Now, we have finally come to the KPI examples for team leaders. It may help you to measure your team's development. Let's take a look at them!
Team Retention
It's important to grow and keep your top performers. You might want to keep track of a KPI about how many people leave or stay on your team. Promotions within your team could also be a good measure.
Employee Satisfaction or Pulse score
Some companies use employee satisfaction surveys to find out how happy their employees are. If you have this kind of information broken down for your team, it could be useful. It might not be a good KPI to measure every week. Instead, you might need to dig deep to find out what the best predictors of happiness on your team are and measure those.
Team Health Index
This is a simple "gut-check" metric that we use to see if anyone on the team is feeling too busy or too full. It helps leaders figure out who might be able to take on more work and who might need help.
Continuous Improvement
This one is harder to measure in numbers, but it's a good one to have because it makes team leaders think of new ways to improve their team's performance all the time. One way to do this is to add a comment box to their one-on-one meetings where they can write down ideas for how to keep getting better. This can make team leaders look for common themes in their quality scores and areas where everyone can work together to improve. This method can also help team leaders figure out if something is a one-time thing or a sign of a deeper problem with a person, like problems at home.
Team Engagement
Again, this is hard to measure in numbers, but if you talk to a team leader once a month about any creative ways they are getting their teams involved, you can get an idea of how well they are helping to create a fun and engaged culture. This could involve celebrating performances and planning team lunches, or bringing in sweets and treats.
Start Tracking These KPIs As A Team Leader
It's important for team leaders to be evaluated on how well they handle the personalities and personal growth of their team members. There are many different team leader KPIs to choose from. But a well-rounded picture of a team leader's performance can be made by balancing scaled-up frontline metrics with how well they interact with their team on a personal level. Everything from how engaged their team members are to how they feel about their career opportunities to how their coaching and development could be improved. 
Best practice also tends toward a "less is more" approach, which allows for growth and provides great customer service without causing confusion or competing interests. It's also important to note that choosing KPIs isn't a one-time thing and that they are reviewed often based on the needs and priorities of the business.