Do you know how to measure employee KPI? However, why should we know how to measure employee KPI? The reason why we should know how to measure employee KPI is that maintaining a profitable business is much like maintaining a healthy body. 
After all, it's brainpower and a stable work ethic that keeps the machine running, so it's essential to assess one's vitals. When dieting, track what you eat; when exercising, target specific muscle groups; when managing a  business with multiple employees, remark on noticeable patterns within the system to be optimised. Thus, you should definitely know how to measure employee KPI.   
There are numerous KPIs (Key Performance Indicators) to track, and numerous ways to input data,  but none include singling out individual employees and judging their worth based on a set of decimals. Business issues are multi-varied and complex, therefore the following employee-KPIs are to be viewed as abstract indicators of potential choke points rather than strict management tools. 
That's why we should know how to measure employee KPI. KPIs are effective as a bird's-eye-view that will aid you in recognising deadly blindspots and alluring possibilities within the map of your larger business strategy. To know how to measure employee KPIs, the first thing that comes up is you should know what employee KPIs to track.
Guide To Measure Employee KPIs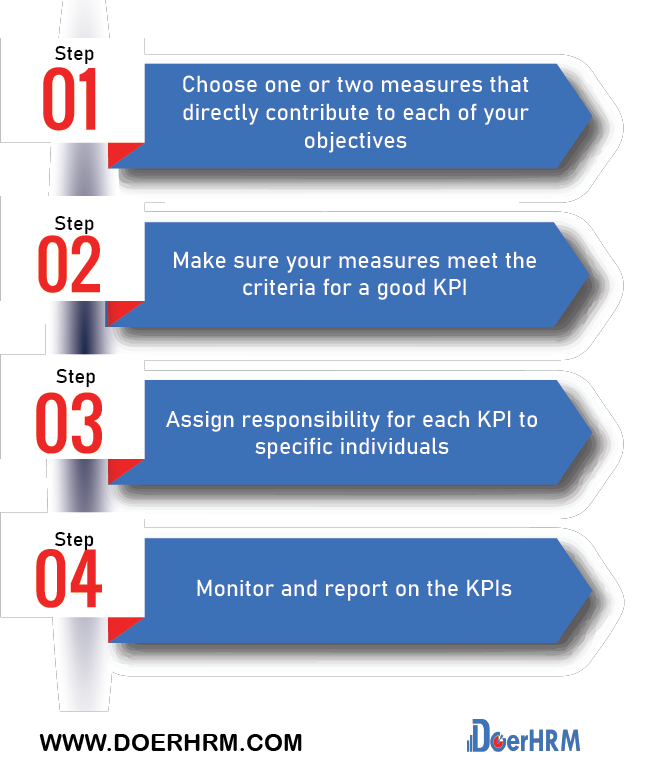 It is frequently said that "What gets measured gets done," but how does the measuring itself get done? Below are the important steps to consider in effectively tracking KPIs as a part of your performance management framework.
Step 1: Choose one or two measures that directly contribute to each of your objectives
While your organization has many moving parts that are integral to its operations and performance, it is not possible, or efficient, to track everything going on internally. For one thing, not all measures are important enough to track. For another, tracking too many measures creates unnecessary work that ultimately won't be useful.
Instead, choose one or two metrics for each of your objectives that will be most helpful in achieving them. Multiple metrics could apply, but only a couple of them will be impactful enough to improve performance.
For instance, say your organization has an objective to improve your employee training and development programs. You could measure the percentage of trained employees or training time, but neither of these correlate well with the real result you're looking for: developing peoples' skills to handle more advanced roles. A better measure might be a reduction in errors as a result of the training, for instance.
Step 2: Make sure your measures meet the criteria for a good KPI
In addition to making sure your chosen KPIs are true indicators of performance, they should also have some additional characteristics that will signal their effectiveness. Ask these questions about each KPI you're considering:
Can it be easily quantified?

Are we able to influence/drive change using this KPI, or is it out of our control?

Does this KPI connect to our objective as well as overall strategy?

Is it simple to define and understand?

Can it be measured in both a timely and accurate manner?

Does it contribute to a broad range of perspectives – i.e. Customer, Financial, Internal Processes, Learning and Growth?

Will it still be relevant in the future?
If you answer "no" to many of these questions, it may be a sign that the KPI either needs to be altered or replaced altogether.
Step 3: Assign responsibility for each KPI to specific individuals
KPIs are an important tool in measuring progress, but they are more likely to be acted upon if someone is held responsible for tracking and reporting on them. An added benefit: The responsible party is also usually more inclined to want the measure to succeed, rather than accept underperformance. Even if all the person's responsible for is reporting on their KPI, you can bet they'd rather report good news than bad news—which motivates them even more.
You may have an analyst responsible for collecting the data. This is important, but maybe more important is having a business leader who is responsible for "reporting" on the measures. The business leader should be able to analyze the results, put the data in context, and explain whether performance is good or bad and why. The individual who is responsible for the measure will be able to influence the resources dedicated to improving the measure.
Step 4: Monitor and report on the KPIs
Finally, it's necessary to continually review your KPIs and their performance on a monthly, quarterly, or other predefined reporting frequency. Regular monitoring makes it easy to see the time frame in which something may have underperformed or overperformed, as well as what may have happened within this period to cause the change.
To ensure the whole team is on the same page—and because many measures and goals are interconnected—it's crucial to report these findings to all relevant parties. Making use of customizable dashboards is a great (and simple) way to report to different audiences. You can make one dashboard for departments working on KPIs, and another that gives a high-level overview to executive teams.
Improve Your KPIs By Changing The Way You Measure Them
Measuring employees KPI is necessary as it allows you to identify problems. You can then investigate them further to improve employee productivity and performance. Well, what can you do other than track these employee KPIs before you are going to measure employee KPI? You should also set SMART KPIs that can help you to get your desired outcome for the business when you measure employee KPIs. 
On the whole, you will not regret learning how to measure employee KPI. It is definitely worth your attention as if you learn how to measure employee KPI, it will allow organisations to quickly identify potential problems. This is often the result of broader operational issues, resource availability, and workflow bottlenecks. Hence, you should try now to learn how to measure employee KPI! 
To learn how OKRs can help take your team to the next level, enroll in our OKR Mastery course and earn a 35% commission when you invite others to join this course!