Improving business processes can be a great way to increase the value of a company. Companies get more diverse as they evolve and adapt, with more staff involved in day-to-day operations, data split between multiple systems, and more flexibility in what consumers buy and demand. This indicates that the procedures are unnecessarily complicated, variable, and difficult to manage, resulting in increased costs and risk for the company. These processes should be reviewed and updated in order to continue expanding, increase margins, and build a scalable business. Setting straightforward, attainable priorities that link the process initiatives to market value is the first and most important step in successful process improvement. Each improvement project's framework is built on these objectives. They'll serve as the foundation for the communication with project managers and staff, laying out why those changes are being given priority before others and holding people accountable for meeting particular goals.
Include these four areas where improved business processes can add benefit while choosing which priorities to set.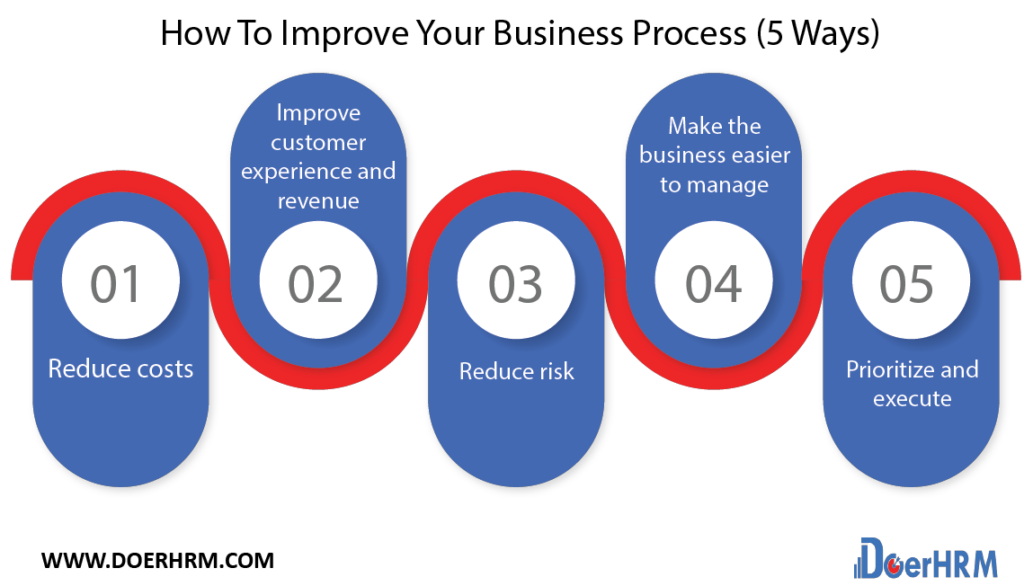 Reduce costs
Processes that are effective take less time to complete, have less stages, and make inefficient operations more visible, making them easy to avoid. Making a process more reliable lowers the expense of operating it and, as a result, lowers the cost of efficiency. Take, for example, the conversion of a consumer quotation into an order. You have a costly, revenue-generating worker doing a job that could be performed by someone with less experience of the system if you have high-priced salespeople re-entering orders into your systems sale itself. Removing or streamlining this method can help salespeople create more leads while still lowering sales operations expenses — a typical order entry workload will cost a four-person sales staff $120K to $150K per year in the long run. Building the process in a disciplined fashion will improve the quality of the data on the orders, reduce mistakes on product shipments to the customer, reduce cost of quality and improve shipping times.
Improve customer experience and revenue
Effective revenue-generating systems — distribution, promotions, R&D, and so on — boost sales and increase pricing quality and product growth. Structured systems enable you to track consumers throughout their lives and have a reliable, outstanding customer service for salespeople to sell and keep customers. This enables sales managers to take charge of the sales process, boost sell-through rates, and monitor pricing and promotions. It also normally aids in lowering the cost of customer acquisition, or at the very least directing spending more precisely throughout the sales process.
Reduce risk
Results that are repeatable are the product of consistent systems. Less operational risk means repeatable performance. A manufacturer's quality management mechanism is an example of this. Any transition, every time, a repeatable, predictable quality control mechanism will have the same possibility of defining defects. A procedure that ranges from shift to shift or person to person can result in finding several flaws at times and very little at other times, raising quality costs and making it impossible to find the right solution. Since rigorous processes make it easier to identify root causes, they reduce the risk of issues existing in your operations for very long.
Make the business easier to manage
Predictable processes that can be measured mean that you can put those processes into systems, measure them and know their outputs without needing to directly observe them. This means that good processes allow executives and managers to manage the business without needing to be involved with every operational detail.
The following principles will maximize your chances of success:
Concentrate on processes that have a significant effect on the top or bottom lines.
Execution is the key to process management performance. Choose targets that you have a good chance of fulfilling depending on the company's potential to deliver.
Make sure employees understand the goals. Poor adoption is the top reason process improvement projects fail. It is difficult to get people to change their habits if they don't understand why.
Make sure you'll be able to monitor your success. Although aspirational targets are significant, you must ensure that the benchmarks you create can be calculated on an ongoing basis when working on process improvement initiatives.
Seek help. The corporate climate is rapidly evolving, and getting a fresh perspective will help you pick the best targets and carry them out in the most productive and cost-effective way possible.
Prioritize and execute
Setting goals — determining how far to take process change — is the next challenge. No corporation will adjust all of its operations at once, and because of their small capital resources, mid-sized businesses must be laser-focused on the ones that can add the most benefit.