Building a successful business can be quite challenging, especially when the business world is getting much more competitive. Laying the foundation for a startup requires a blend of different key elements like strategy, right model, strong team, and proper growth strategy.
At every stage of startup growth, you need a measurable growth strategy; you need to make sure that your entire team is focused on a single goal.
Even after having a perfect team, amazing products, and all elements blended, some companies fail. Most startups fail because of poor prioritization and misalignment of the team. While goal setting, proper prioritization, and strategic alignment may seem pretty easy on paper. But to set this theory in practice can be challenging for most businesses.
If your company is facing similar issues, it's time to look for an OKR framework. OKR helps companies get a framework that can help set up measurable goals for the proper growth and better ROI to the business
OKR means Objectives and Key Results. OKRs are focussed on the operations and growth of the business. The most significant benefit of OKR is that it can help empower teams within a company by setting up measurable goals and ambition-based goals. In addition to this, OKRs also help in bringing clarity and alignment to the functioning of a business.
To learn how OKRs can help take your team to the next level, enroll in our OKR Mastery course and earn a 35% commission when you invite others to join this course!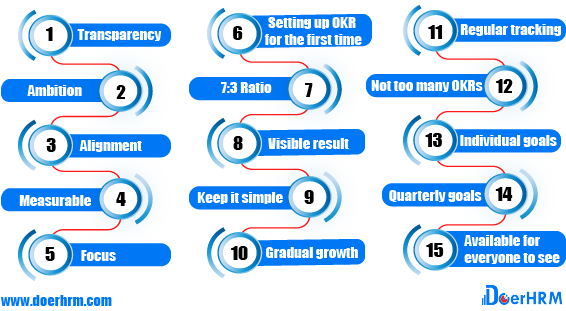 Transparency
All kinds of organizations need transparency at all levels. With an OKR framework, you can get proper communication, better levels of collaboration, and prioritization between the team members.
Ambition
An OKR framework can help your startup to cultivate a performance-based culture.
Alignment
It is essential for all kinds of businesses to ensure that they are aligned towards a single goal.
Measurable
Just setting up a goal is not enough. Goals also need proper tracking and measurement for success and failure. Thus, an OKR framework can help a startup in getting a measurable goal.
Focus
Focus is an important element needed for startups. OKRs can help teams away from distractions so that they can focus on things that matter.
Setting up OKR for the first time
Most companies in their beginning phase face the problem of formal goal settings, and thus they need the helping hand of OKRs. So, let's understand how you can set up OKRs for the first time:
7:3 Ratio
Your company should not be only about the founding members and bosses. The employees and teams in a company are the most vital organs of a company. Thus, to get a successful OKR, it is very important that your employees should play an important role in goal-setting. Thus, whatever you decide, 70% of OKRs should be from the employee's side, and the remaining 30% should be from management's end.
There is no need to impose OKRs on employees, as it can seem like a self-improvement tool for employees. The basic aim of OKR should be to give a broad picture of goals that the company wants to achieve in the coming days. Thus, your employees should have a sense of belonging towards the company so that they can be focused on achieving the goal.
Visible result
Setting up a goal is not enough. OKRs can also serve as a guiding stone, as it can help in showing the visible results. Thus, making an OKR as an everyday ritual can help in fulfilling objectives for employees as well as the team as a whole. No matter if you use a bulletin board or you use a spreadsheet, a visible goal can help in the achievement of goals properly.
Keep it simple
Heavy documentation can never make any work easy, especially if you are running a startup. OKRs should not be a hassle for your team. Instead, it should not take more than a couple of minutes to complete the process. The simpler the process, the easier insights you can get. Thus, try to ensure that there are no messy statistics and graphs to show the result.
Gradual growth
You can't expect the OKRs to do the magic in a single day. Thus, don't try to overreach if this is your first time doing OKRs. So, you can try to achieve only 50% of your OKRs in the first few months. After a few months of getting good results, you can raise the bar.
Don't keep OKRs just as a part of the daily rituals for the sake of documentation. Instead, it should gradually be made a part of the goal achieving formula for your employees. You may face a few snags in the first few months, but keep modifying and updating the process to get better results eventually.
Regular tracking
Although management should not be overly involved in setting the OKRs, it should not mean that management can't track the OKRs at regular intervals. It is very important to keep track of the tasks your employees are assigned and how well they are performing it. Track OKRs at regular intervals. To be even more fruitful, you can assign a person who can perform the task of checking the OKRs daily.
Not too many OKRs
Although you can set up as many OKRs as you want for your company and team, it is important not to overshoot your employees with unlimited OKRs. Thus, get your priorities straight and set up OKRs according to the priorities and goals you want to achieve.
Individual goals
For a startup with fewer employees, it is also important to set up an individual goal, in addition to the team goal. Setting up individual OKRs can also help employees understand their strengths and weaknesses, and thus, they can learn in a better way. Thus, if you are a startup with few founding members, use the OKR process to set up individual goals that you want to achieve.
Quarterly goals
Most companies have daily or monthly OKR. But, you can also use a quarterly OKR to understand the overall functioning of your company. Thus, before a quarter begins, set up a goal and try to work on those goals. At the end of the quarter, you can track your company's performance to know how well your employees are working.
Available for everyone to see
Bottomline
All these OKR setting processes that we mentioned can be used for all kinds of startups. No matter if you are in the fashion industry or have an IT services startup, OKRs can play a major role in setting up goals and achieving goals. So, set up an OKR framework for your company this week by using a simple DoerHRM OKR Framework and get measurable results in a week.
If you want to add a structure to your startup, setting up an OKR can be one of the essential things to try. Setting up OKR in no way will mean compromising on the flexibility of your company. It will be a guiding stone for your company that will help you understand the strengths and weaknesses of employees, management, as well as the company as a whole.
Thus, if you want your startup to boost and grow at a higher level, get an OKR framework.
Although OKRs can only act as a tracking system for the employees, you can also keep an eye on employee's performance and jump in only when it is extremely needed.
We hope this article will help you to plan the best OKR framework for your startup so that you can have better levels of efficiency and growth.