Goal-setting, objectives, key results, strategy; all these words fly around the business world today, and are probably mentioned in every business meeting you have. But OKRS and strategy are more than just buzzwords, and strategy execution is easier said than done. Luckily, many businesses use the OKR framework to effectively bridge the gap between their strategy and execution.
So, how do businesses create an OKR framework that delivers results?
First, let's answer the burning question that someone new to the world of strategy-execution might be asking: What are OKRs?
Objectives and key results (OKRs) is a powerful framework used in the modern workplace because it takes goal-setting to a new level, but are still a simple way to set, track, and measure goals without being overly complicated.
OKRs provide a clear direction for team members to follow. For example, the former CEO of Intel, Andy Grove, explained that OKRs answer: where (the destination/goal) and how (what pace and steps do I need to take to get there).
Organizations often think of Key Performance Indicators (KPIs), but KPIs are different for goal setting. Yes, they serve the purpose of tracking the operations, but KPIs focus more on measurement. On the other hand, OKRs concentrate on the action needed to execute the strategy. Of course, part of the system includes tracking the OKRs throughout the year. The question remains though, what is the secret to OKRS and strategy execution? Let's dive into best practices.
OKR and Strategy Execution
Unfortunately, this mentality is contrary to what makes OKRs so effective. Because OKRs focus on action and getting where you want to go, organizations fail to execute correctly.
Finding the Balance between Strategy and Execution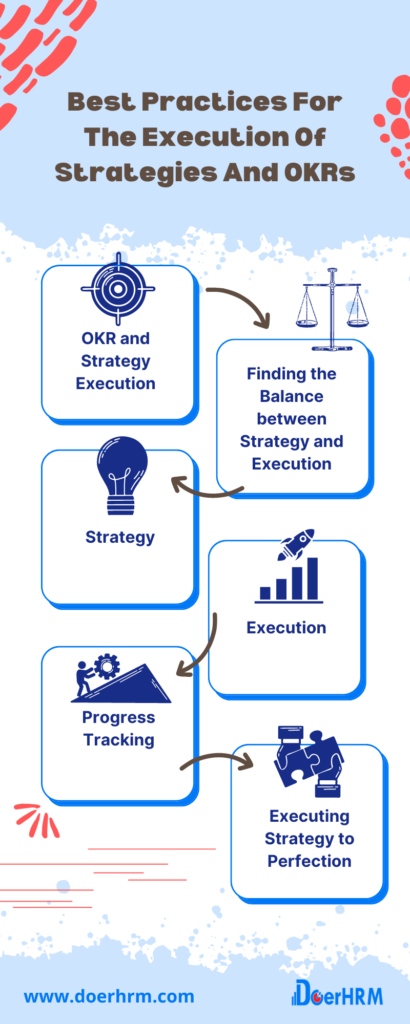 Finding the Balance between Strategy and Execution
When organizations follow these best practices, whether big or small, they can successfully lead their business to achieve nearly anything.
Want to find out more about how an OKR management software like DoerHRM can help you better execute your OKR strategy? Book a free demo today with the OKR experts at Profit.co!