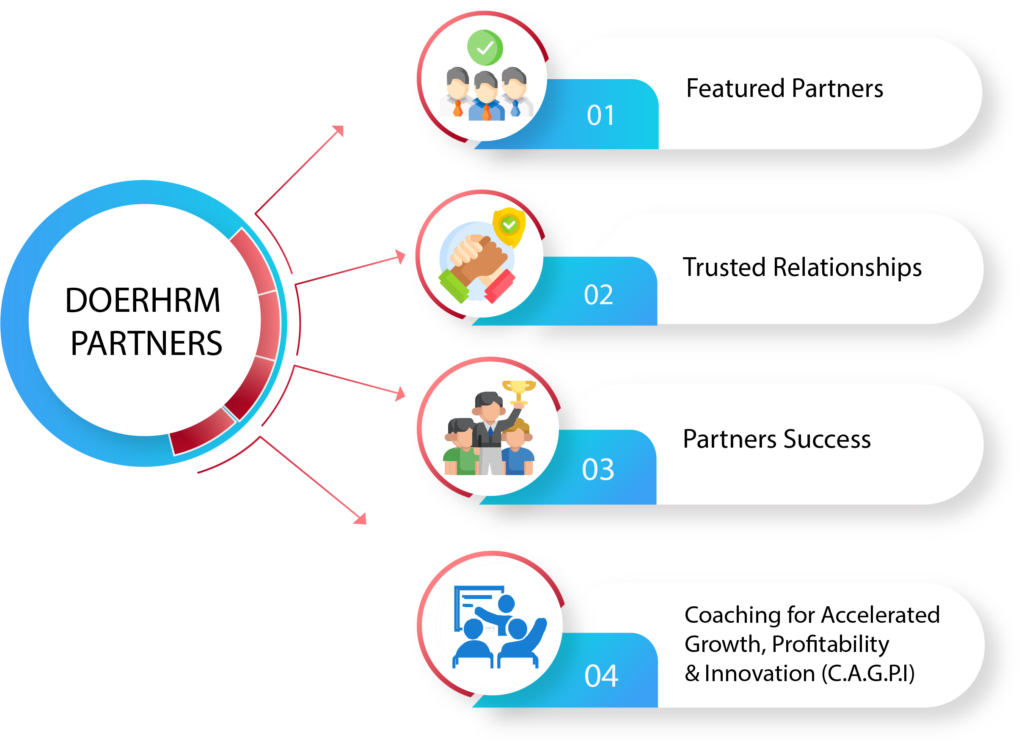 We aim to help you develop your business by assisting you in helping your clients in improving their performance, culture, and well-being. We'd love to talk to you if these are the goals of your customer engagements.
We're sometimes just a platform that teams locate, put up, and run without any help. We discovered that a combination of an appropriate platform setup and skilled coaching works well for firms that desire quick changes.
Coaches can help you have the appropriate dialogues, gain the right skills, instil the right mindsets, and train the right key individuals to success – all while identifying and removing potential roadblocks. DoerHRM has partnered with the greatest and most experienced coaches in the industry to ensure your success.
Take a peek at all of our Trusted Relationships!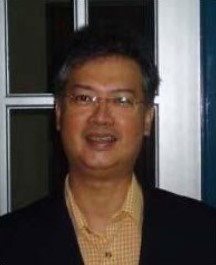 Experience in Organization Development, Strategic Business Improvement, Change and Culture Management – having worked with many teams and organizations to steer them to a new level of thinking and results

As a highly "hands on strategy," Organization and Business Improvement consultant – he has facilitated the improvement, growth and renewal of many companies to accelerate their competitive position in the market

With this broad spectrum of experience: covering many industries and management disciplines, he pioneered an Integrated Organization Business Improvement System for aligning the people, process, and system components for Business Optimization using a Systems and Design Thinking Methodology. He is a pioneer of Design Thinking in Malaysia

Xavier and Alan co-authored "Winning Cultures and Building Supertalent"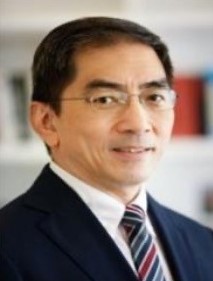 Has more than 30 years of experience across different industries and delivered success in various roles across a multitude of industries

20 years of management consulting experience in leading companies such as AT Kearney and PA Consulting Group (Country Head & Executive Director) specializing in people and process management in Human Resources, Organizational Design, Policy Design, Talent Development, Executive Search, Performance Management and Business Process Management.
Some of his clients include Exxon Mobil, Maxis, Ansell, Beiersdorf, Daily Farm, HSBC, Govt of Malaysia, EPU/MAMPU, Indonesia's aircraft manufacturer – IPTN, etc.
Another 10 years in senior executive roles for leading organizations such as Genting Group overseeing the Resort Operations, Cargill-Tropical Oils Asia as Group HR Director overseeing Singapore, Indonesia and PNG, Great Eastern Life Malaysia and AIA Malaysia overseeing their operations.
Abacus
Affin Bank
Affin Finance
AIA
Alpha Industries
Association of
Development Finance
Malaysia
AUO Sunpower
AXA Affin Assurance
Bank Industri
Bank Negara Malaysia
Berjaya Group
Bumi Armada
Boustead Heavy
Industries Group
Boustead Naval Shipyard
Canadian Aerospace
Engineering
Danfoss
DKSH
EPIC Berhad
FAMA
Flowcrete
Gas Malaysia
GB Industries
Great Eastern Assurance
Infusion Solutions
Juken Technology
Kawan Foods Berhad
KNM
Kulim Butterworth
Highway
Penang Bridge
Corporation
Kulim Technology Park
Corporation
KDEB
Lafarge Cement
M Mode
Mardec
Maybank
MEPS
MAMPU
Mid Valley
Corporation
MMC Engineering
Corporation
MMC Group
Motorola
New Hoong Fatt
Berhad
PANASONIC Group
Perbadanan Nasional
Berhad
PNS
Poly Plastics S
PPG Coating
(previously ICI)
RHB
Samsung
SIME DARBY Group
SIRIM
STAR Publications
Tepat Teknik
TM Group
Toshiba
PM's Department
(MAMPU)
Top Glove
UMW Toyota
University of Malaya
Continuing Education
Centre (UMMCed)
UOB
Coaching for Accelerated Growth, Profitability, & Innovation (C.A.G.P.I)
We are an HRD Corp approved company. As our partners, you can provide a training program as a lead-trainer to your clients or choose to be a co-trainer for our training programs. Below are some of the training programs that will be conducted by us:
Modul 1
Team Coaching Essentials
HRD Corp Training Programme 10001135128
Modul 2
Coaching for Greater Influence
HRD Corp Training Programme 10001135127
Modul 3
High-performance Coaching
HRD Corp Training Programme 10001135125
Modul 4
Result-driven Coaching
HRD Corp Training Programme 10001134633
Modul 5
Leadership & Management Coaching
HRD Corp Training Programme 10001135123
Modul 6
NLP Coaching in Workplace
HRD Corp Training Programme 10001134636
Start using
DoerHRM
today